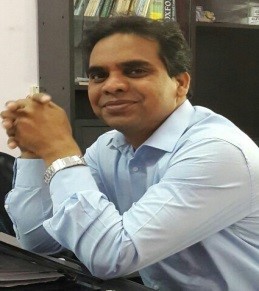 Anoop has joined us as training and outreach officer who will focus on developing manuals, courses and web presence for the Data Analytics Core Group (DACG) and our other services to forge links between the analytics approach of the Group and researchers in the School of Social Sciences. Like former Group members, Anoop is presently engaged as an Associate Professor in the Department of Social Work in the University of Luclnow. After his Post Grad in Economics as well as in Social Work from University of Lucknow, Anoop completed his Ph.D. in Social Work.
Prior to joining the group, Anoop was actively engaged in professional achievements especially in the fields of Social Welfare Services, Social Policy and Planning, Research in Social Sciences, Population and Environment and Political Economy and Development. Fifteen scholars in Ph.D. and seventeen scholars in M.Phil. Programs have been awarded under his supervision. Anoop also supervised two Post-Doctoral Fellowships. More than twenty five research papers have been published by him in Journals of International repute. He has published five books and also written ten chapters in number of books. Six Research/ Training projects have been successfully completed by him. He has been invited as Resource Person to deliver lectures and talks at various seminars and conferences as well as in several Invited talks in All India Radio. Twelve workshops/ seminars/ conferences were organised by him. He also chaired and co-chaired in a number of conferences. He is presently coordinating programs in Academic Staff College of the University of Lucknow.
Anoop holds the membership of nine Professional Bodies and Organisations and has significantly contributed to Corporate Life as twenty five assignments. He has also been honoured for the Sincere Commitment, Untiring Endeavour and Academic Contribution to Resolve the Issues Related with Dalits and Other Deprived Section of Indian Society by Indian Association of Social Science Institution (IASSI), New Delhi.
He is Expert member in UP Public Service Commission, MP Public Service Commission, Bihar Public Service Commission, Staff Selection Commission, UP Police Bharti Board and UP Lower Subordinate Commission. Anoop has been nominated Member in Expert Committee by the Uttar Pradesh Government in regard to International Airport, Jewar, UP and Purvanchal Expressway, UP.
As an Expert member of the DATA ANALYSTICS CORE GROUP (DACG), Anoop is extending his expertise in handling interpretation of results in various data analysis especially in Societal Impact to the clients of DACG to a great satisfaction.