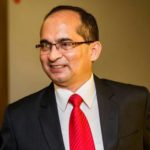 He is a Professor in the area of Decision Sciences and Operations in Jaipuria Institute of Management, Lucknow. He is also Dean (Research) at Jaipuria-Lucknow. He has a teaching and consulting experience of more than twenty years including more than twelve years in Jaipuria-Lucknow. He also has an experience of three years in Govt. of UP as a Class I Gazatted Officer. He teaches papers like Quantitative Analysis, Data Analytics, Operations Research, Research Methods and Advanced Data Analysis.
His area of expertise is Multivariate Data Analysis, Decision Modeling, Soft Operations research, Performance Evaluation and optimization. He has wide experience of consultancy and also has taken more than eighty FDPs/MDPs in various areas. He has wide consulting experience of Market Research and Performance Evaluation Projects.
He has co-authored the famous book "Statistics for Management" (Person Publications). He has more than twenty five research papers to his credit in various International acclaimed journals and has more than two hundred and ten citations. He has attended and presented research papers in many national and international conferences and also awarded best research papers in ISDSI-2015 Conference.