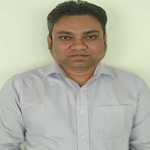 Janardan Mandal is a SPSS Business Analytics Software Specialist associated with SPSS South Asia Pvt. Ltd. as Regional Manager-SPSS from year 2009 recently became part of DATA ANALYSIS CORE GROUP (DACG) under our corporate business collaboration, expertise in providing End to End business Solution that helps in planning a project, collect survey data, cleaning and validation of data, analysis and also in deployment of analyzed reports.
He is a keen planner with demonstrated abilities in devising marketing activities & accelerating the business growth and specialized in Market Analysis & Research activities with Client Relationship Management.
He is an effective communicator with excellent relationship building & interpersonal skills, analytically strong and problem solving abilities. His specialties: Business Intelligence/Business Analytic Solution, Sales/Pre-sales at Corporate, Government and Academic (Direct and Channel Partners), Cross cell, Up-sell, managing Tendering process managing RFP's
He is Master's in Business Administration (PGDBM/MBA) from ISB, Kolkata. Janardan is a detail-oriented manager who watches the balance sheet like a hawk without losing sight of the strategic objective.He is the only person ever to be in the DACG who has performed a lot of support in providing every sort of services, technical trainers from SPSS South Asia Pvt. Ltd. and other requirements at users end. His immense desire to keep abreast in the cutting edge of carrying out innovative data analysis for high data content/high-throughput techniques in every programs to be organized by DACG.