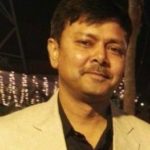 Santosh is a dynamic individual with excellent team working and communication skills. He is an energetic and enthusiastic person who enjoys a challenge and achieving personal goals. His present career aim is to work within DACG because he enjoy working with computers and enjoy the environment and find the work interesting and satisfying. The opportunity to learn new skills and work with new technologies is particularly attractive to him.
He is looking for management training which offers him the opportunity to develop new skills while strengthening those he already possesses.
On obtaining his Ph.D. in A.I.H. from University of Lucknow in 2006, Santosh enabled him to develop good organizational skills, an analytical/logical approach to tasks and the ability to work under pressure and completed his another Ph.D. dissertation in Business Administration. He drifted towards strategic analytics especially in the sector of Automobiles. He took the Charge of Principal, Goel Institute of Management and Technology, Lucknow in 2013.
Santosh is able to work well both on his own initiative and as part of a DACG. His main strengths are adaptability, dependability and the determination to get a data base analysis by his varied work experiences in retail, catering, hospitality work, teaching and managerial skill.
Santosh as a MBA with strong communication and organizational skills gained in nursing, now seeking to move into a career as an analytical business behavior. He has skills and knowledge essential for managing key areas of the DACG and the problem solving skills needed particularly in finance. He is looking for a graduate trainee post in marketing where he can use his strong influencing skills and impart training to individual with the high esteemed qualitative analysis with the other members of the group.