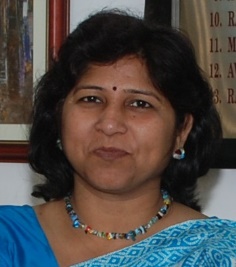 Alpana Srivastava is a member of the Data Analysis Core Group (DACG) and Professor in the Amity Business School, Amity University, and Lucknow (INDIA). She is heading Statistics, Economics & Operation Management along with program director for PhD. She has done PhD in Statistics by availing CSIR-SRF from Utkal University, Bhubaneswar, and Orissa. She persuades masters in Statistics and Economics from Kanpur University, Kanpur and MBA in operation Management from IGNOU. Prior to joining Amity University she worked as economist (World Bank funded) in State Water Resources Agency (SWaRA). In her journey she has worked in organizations like Institute of Applied statistics, Lucknow, Indian Agriculture Research Institute, New Delhi, Indira Gandhi Institute of Development research, Mumbai, and Utkal University, Bhubaneswar.
She possess over twenty two years of research experience in field of applied statistics, econometrics and operation management.
She has contributed in more than 10 research projects and two consultancies
She has authored, co-authored and contributed 22 research articles in National and International Journals of repute. 3 books to her credit.
She has attended and presented papers in more than 50 National and International Conferences, Workshop and Seminars over the globe.
She has delivered number of invited lectures at various universities, Government and Corporate sectors in research methodology, data analysis and decision making, operation management and use of excel and SPSS.
Have guided more than 150 PG students and 200 UG students for there dissertation. 1 scholar has completed doctorate and 6 more her guidance.
Teaching at UG, PG and PhD level
She is reviewer of number of journals.
She is Vice president of Association of Socio-Economic Development Studies" Lucknow, INDIA
She is in editorial board of 4 Journals
Organized number of national and international conferences/ workshops/ seminars.
Concurrently conducting workshops for colleges/Universities on Data Analysis using SPSS and excel. Decision making through solver and QSB.
She had proficiency in handling computer with specialization in Statistical Packages like SPSS, SAS, LIMDEP, TSP, QSB, Strata,SHAZAM etc, and have working knowledge of software's like GIS, and Auto-CAD. Presently working on Big data analysis using R.
Her current areas of research are: Agriculture, Aquaculture, Environmental Efficiency, Gender Inequality, Health and Nutrition, Demographic-Surveys and Population & Health studies, Tariff regulations for Ground and surface water, Water Resources Planning, water quality and quantity issues etc.